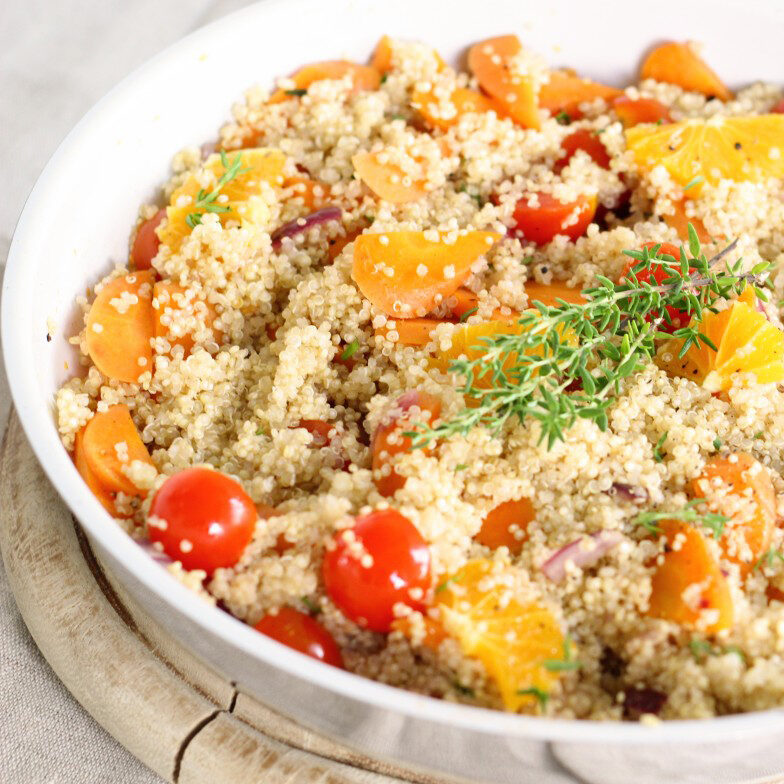 QUINOA SALAD, HEALTHY DINNER WITH EVOO
A healthy and easy dinner to make. More and more people decide to experiment in the kitchen and try new healthy recipes
Quinoa salad, healthy dinner with EVOO
There are many salads that are quick to make and provide us with all the necessary nutrients. Sometimes, it is difficult for us to make healthy dinners at home because we do not know what ingredients we can use or what combinations can be a delicacy for our palate.
quinoa It is an ingredient that gives a lot of play when preparing recipes. This seed is considered a pseudocereal and has a lot of beneficial properties for health, as well as a very pleasant texture when ingesting it. In this recipe we are going to tell you how to prepare the quinoa salad, and, also, how you should cook it so that it is just right. Continue reading!
Ingredients
As we have been commenting before, the quinoa salad is a very healthy dish that is light at the same time. It is ideal to make a healthy dinner and if you have little time, the preparation is quick. Next, we are going to make a list of all the ingredients necessary to prepare two portions:
150 grams of uncooked quinoa
40 grams of corn
40 grams of grated carrot
15 cherry tomatoes
100 grams of feta cheese
1 avocado
Extra virgin olive oil (EVOO)
Quinoa salad preparation time
This recipe will not take much of your time. You will need approximately 18 or 20 minutes to cook the quinoa and 5 minutes to mix it with the rest of the food. The preparation time for this healthy salad is approximately 20 minutes. Let's get to work!
Preparation mode
First of all, we must cook the quinoa. If you have never heard of this seed, we are going to explain how to do it so that it is just right.
You must wash the quinoa before cooking it to remove the saponins (it provides a bitter touch). To do this, you must cover all the quinoa with enough water and stir with a wooden spoon. Remove all the water, and repeat the operation several times until you see how the water is transparent when you remove the quinoa.
Put the quinoa with the water in a pot over medium heat. Add a splash of extra virgin olive oil and a pinch of salt. Put a lid on and let it cook for about 18-20 minutes.
When the time is nearing the end, uncover the quinoa and taste it. If it's not hard, it's ready to eat. In the event that you notice it raw, let it cook for a few more minutes.
while cooking
Prepare the rest of the ingredients needed for the quinoa salad.
Cook the broccoli. You must boil it in a pot for approximately three minutes.
When the time is up, we recommend passing the broccoli through cold water, cutting it into pieces and putting it in the salad bowl in which you are going to serve the healthy salad.
Scratch the carrot so that it remains in thin slices. If you don't want, you can also cut it into small pieces. Cut the 15 Cherry tomatoes in half and add the two ingredients to the salad bowl.
Add the 100 grams of feta cheese. We recommend cutting it into square pieces, so that the visual aspect is much more attractive. We have chosen this type of cheese because it has many beneficial properties for health: it has many proteins, it can provide us with a large amount of vitamins and it is also easy to eat.
Cut the avocado into pieces and add it to the salad bowl. Do not forget that you must also include the 40 grams of corn.
We already have almost all the ingredients for our healthy dinner ready! When you have everything prepared and the quinoa is ready, add it to the bowl.
Remove all the ingredients of the salad and dress with a splash of extra virgin olive oil to your liking and salt. The EVOO It will give a special touch to the salad. Ready! We already have an ideal quinoa salad for a healthy dinner.
Enjoy your meal!
Keep informing you at Olive olive