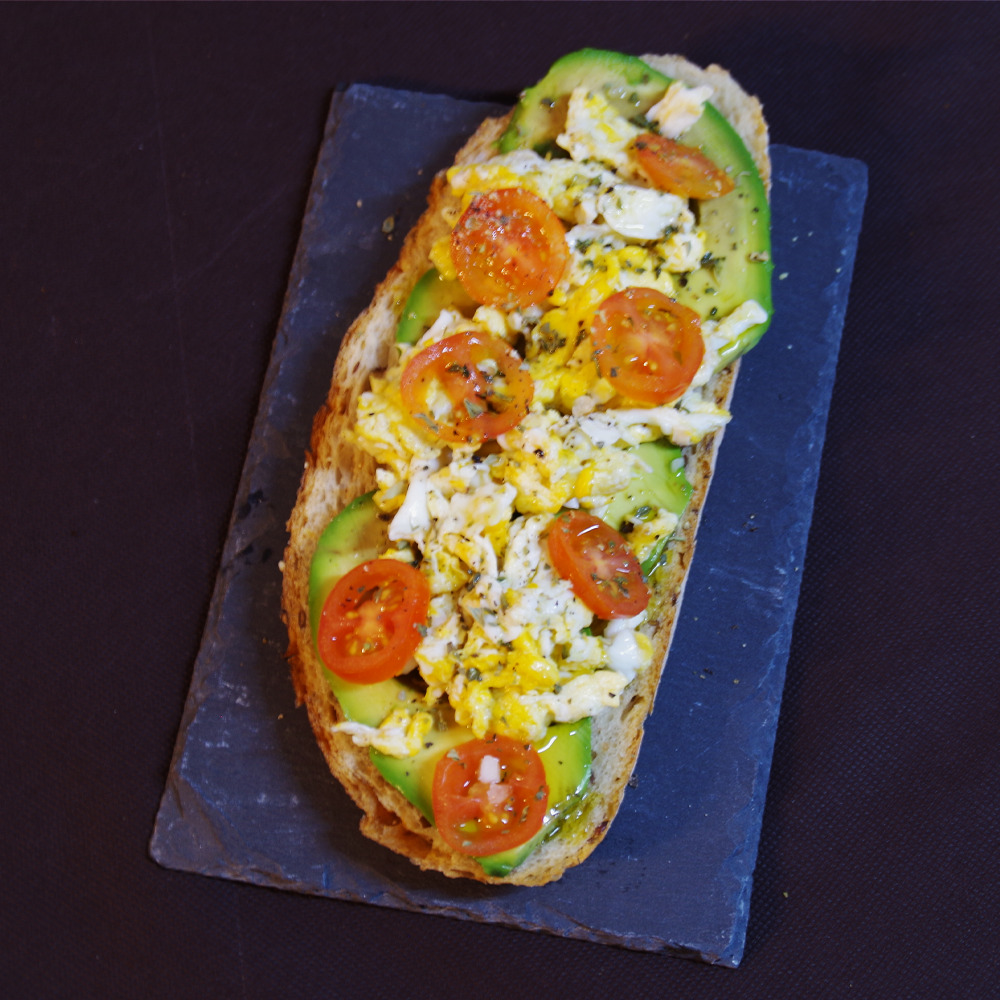 TOSTA DE AGUACATE CON HUEVO REVUELTO, TOMATES CHERRY Y AOVE ARBEQUINA
Hoy te proponemos una receta rápida, sencilla e ideal para almuerzos y meriendas
Pan de masa madre, un producto en auge repleto de beneficios
En los últimos años, el pan elaborado con masa madre ha alcanzado un importante protagonismo en buena parte de los hogares españoles. Prueba de ello es que cada día son más las panaderías y los supermercados que ofertan este producto. Pero, ¿qué es exactamente la masa madre?
La masa madre es el resultado de una mezcla de harina y agua que va fermentando con el paso de los días. Esta fermentación da lugar a bacterias y levaduras naturales que producen interesantes cambios nutricionales en el pan, pasando a tener más antioxidantes, mayor contenido en vitaminas, mejor calidad proteica o menor índice glucémico. Todas estas virtudes han propiciado que cada vez un mayor número de consumidores opte por este tipo de pan e incluso que más personas se animen a elaborar su propia masa madre en sus cocinas.
AOVE Arbequina, una magnífica opción
For this recipe we have opted for a aceite de oliva virgen extra ecológico monovarietal Arbequina de Oro del Desierto.
En concreto, este aceite de oliva virgen extra —procedente de Almería— se caracteriza por ser dulce y envolvente, mientras que su amargor es casi nulo y el picor está algo más marcado. Deja una sensación vegetal impregnada en el paladar persistente y duradera, pero muy agradable.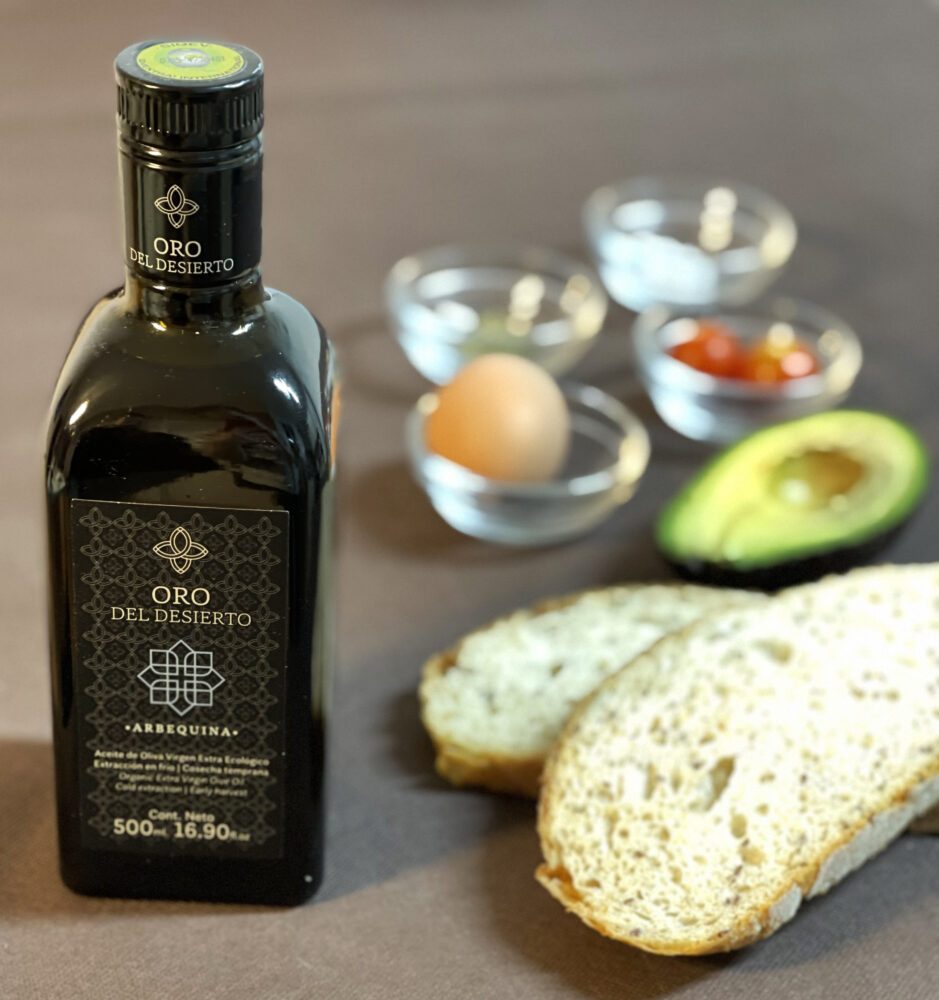 For all this, the aceite de oliva virgen extra Arbequina casará a la perfección con los ingredientes de nuestra receta. ¡Continúa leyendo para descubrirlos!
Ingredients
A continuación, te mostramos una lista de los ingredientes necesarios para preparar una ración:
1 rebanada de pan de masa madre
3 rodajas de aguacate
1 huevo revuelto
2 tomates cherry
Orégano
Pimienta negra
Sal marina
30 ml. de AOVE Arbequina ecológico de Oro del Desierto
Preparation mode
Preparation time and number of guests
Además de ser muy sencilla, nutritiva y deliciosa, esta receta la tendrás lista en solo unos minutos, ya que la preparación es muy rápida. Tan solo necesitarás aproximadamente 5 minutos para elaborar el plato completo, que está pensado para 1 comensal.
Steps to follow to prepare the dish
En una sartén antiadherente, a fuego medio, echamos un chorrito de aceite de oliva virgen extra Arbequina y dejamos calentar durante 1 minuto. Una vez pasado el tiempo, agregamos un huevo y una pizca de sal marina y removemos constantemente de forma envolvente con una cuchara de madera, hasta que veamos que la yema y la clara se han cocinado y entremezclado correctamente.
Cortamos medio aguacate en rodajas finas.
Cortamos 2 tomates cherry en rodajas finas.
En un plato, colocamos una rebanada de pan de masa madre.
Colocamos las 3 rodajas de aguacate sobre el pan.
Esparcimos el huevo previamente revuelto por encima.
Agregamos los tomates cherry cortados.
Echamos orégano, pimienta negra Y sal marina al gusto.
We take a generous squirt of aceite de oliva virgen extra Arbequina to finish.
Con muy pocos ingredientes y en apenas unos minutos, hemos logrado elaborar un plato saludable, con un aspecto de lo más atractivo y un sabor sensacional.
Enjoy your meal!
View this post on Instagram