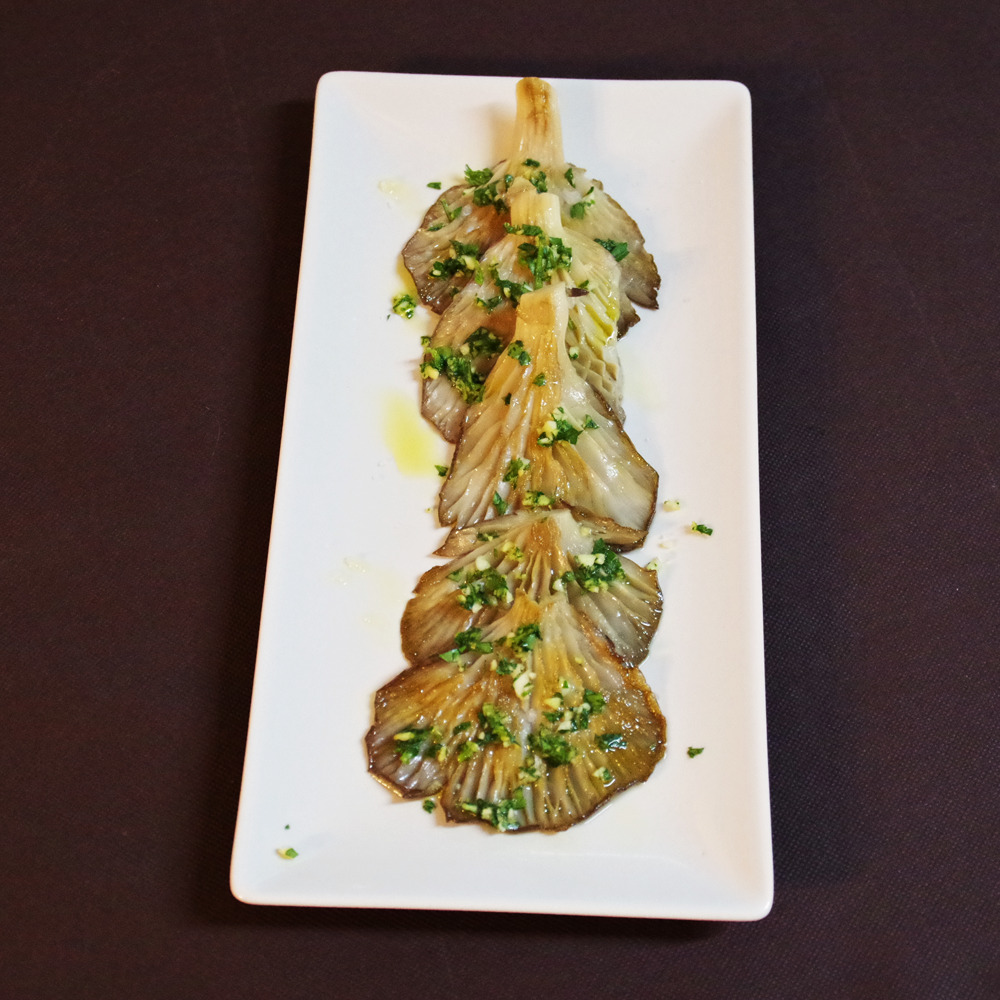 OYSTER MUSHROOMS WITH GARLIC, PARSLEY AND MORISCA EVOO
Hoy te proponemos un plato singular, muy suculento y rico en nutrientes que tendrás listo en solo unos minutos
Setas de ostra, un alimento con múltiples propiedades y beneficios para la salud
La seta de ostra es uno de los hongos más valiosos y saludables del continente europeo, ya que contiene múltiples sustancias biológicamente activas con propiedades antivirales, antibacterianas y efectos antiinflamatorios.
Además, las setas de ostra son ricas en vitaminas del grupo B, D, C y K. Las vitaminas del grupo B y D son fundamentales para nuestro organismo, ya que nos pueden ayudar, por ejemplo, en la prevención de la osteoporosis y en el fortalecimiento de nuestro sistema óseo. A su vez, este hongo es rico en minerales como el sodio, yodo, hierro, zinc, potasio, fósforo y selenio.
Estamos ante un alimento muy completo y versátil que podemos incluir en multitud de recetas. Gracias a su agradable, suave y delicado sabor, mejorará cada plato en el que lo incluyamos, dándole un toque singular.
En esta ocasión vamos a presentarte una propuesta sencilla, rápida y muy suculenta.
AOVE Morisca, una interesante opción
For this recipe we have opted for a aceite de oliva virgen extra ecológico monovarietal Morisca de Baeturia.
En concreto, este aceite de oliva virgen extra —procedente de Badajoz— se caracteriza por su intenso sabor, donde el amargo y el picante se detectan con intensidades medias. Junto a ellos, se aprecian matices vegetales persistentes que se mezclan con notas de frutos secos. Entre los aromas destacan el olor a flores, manzana, frutas verdes y hoja de olivo.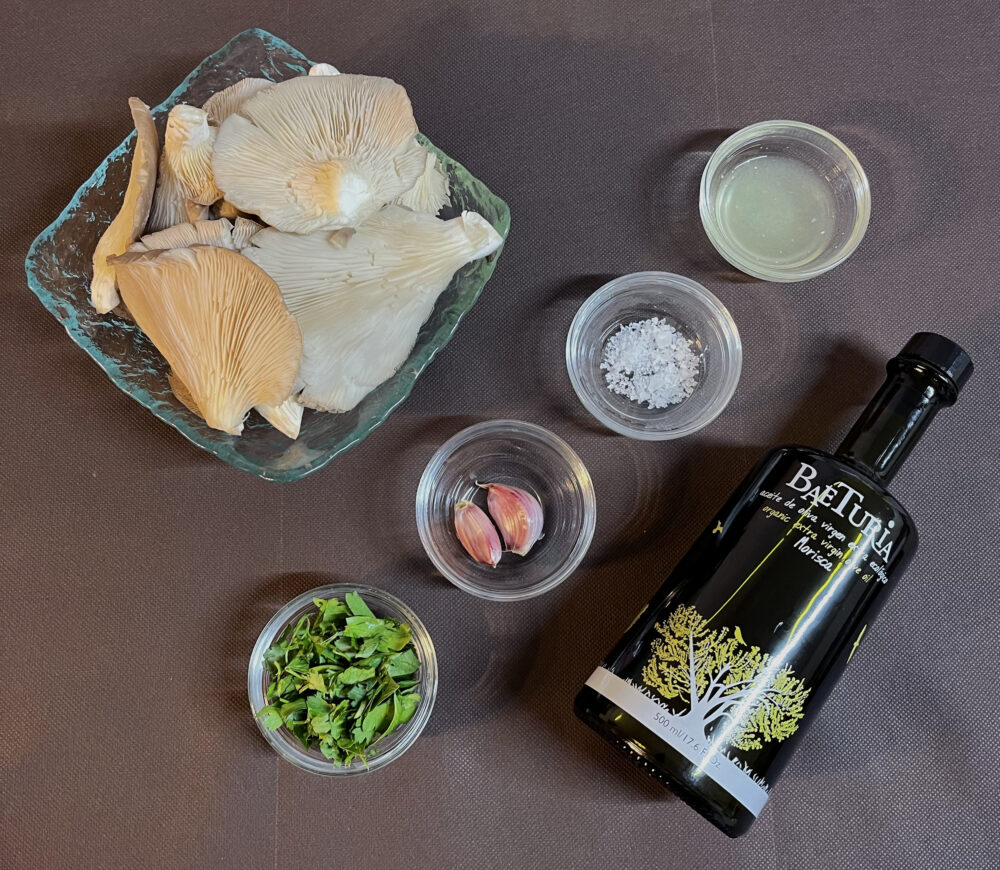 For all this, the aceite de oliva virgen extra Morisca It will combine perfectly with the ingredients of our recipe. Keep reading to discover them!
Ingredients
A continuación, te mostramos una lista de los ingredientes necesarios para preparar dos raciones:
250 gramos de setas de ostra
3 dientes de ajo
1 puñado de perejil
1 chorrito de zumo de limón
Pimienta negra
Sal marina
40 ml. de AOVE Morisca ecológico de Baeturia
Preparation mode
Preparation time and number of guests
Además de ser fácil y sabroso, este plato lo tendrás listo en solo unos minutos, ya que la preparación es muy rápida. Tan solo necesitarás aproximadamente 10 minutos para elaborar la receta completa. Este plato esta pensado para 2 diners.
Steps to follow to prepare the dish
En una sartén a fuego medio-bajo, echamos un chorrito de aceite de oliva virgen extra Morisca y esparcimos las setas de ostra. Dejamos que se cocinen durante 4-5 minutos aproximadamente. Una vez pasado el tiempo, les damos la vuelta y dejamos que se cocinen por la otra parte durante otros 4-5 minutos aproximadamente.
Picamos el perejil y los dientes de ajo.
Exprimimos ¼ de limón.
En un plato, colocamos las setas de ostra ya cocinadas. Seguidamente, agregamos el perejil y los ajos picados por encima y vertemos el zumo de limón.
We take a generous squirt of aceite de oliva virgen extra Morisca to finish.
Con muy pocos ingredientes y en apenas unos minutos, hemos logrado elaborar un plato saludable, con un aspecto delicioso y un sabor espectacular.
Enjoy your meal!
View this post on Instagram