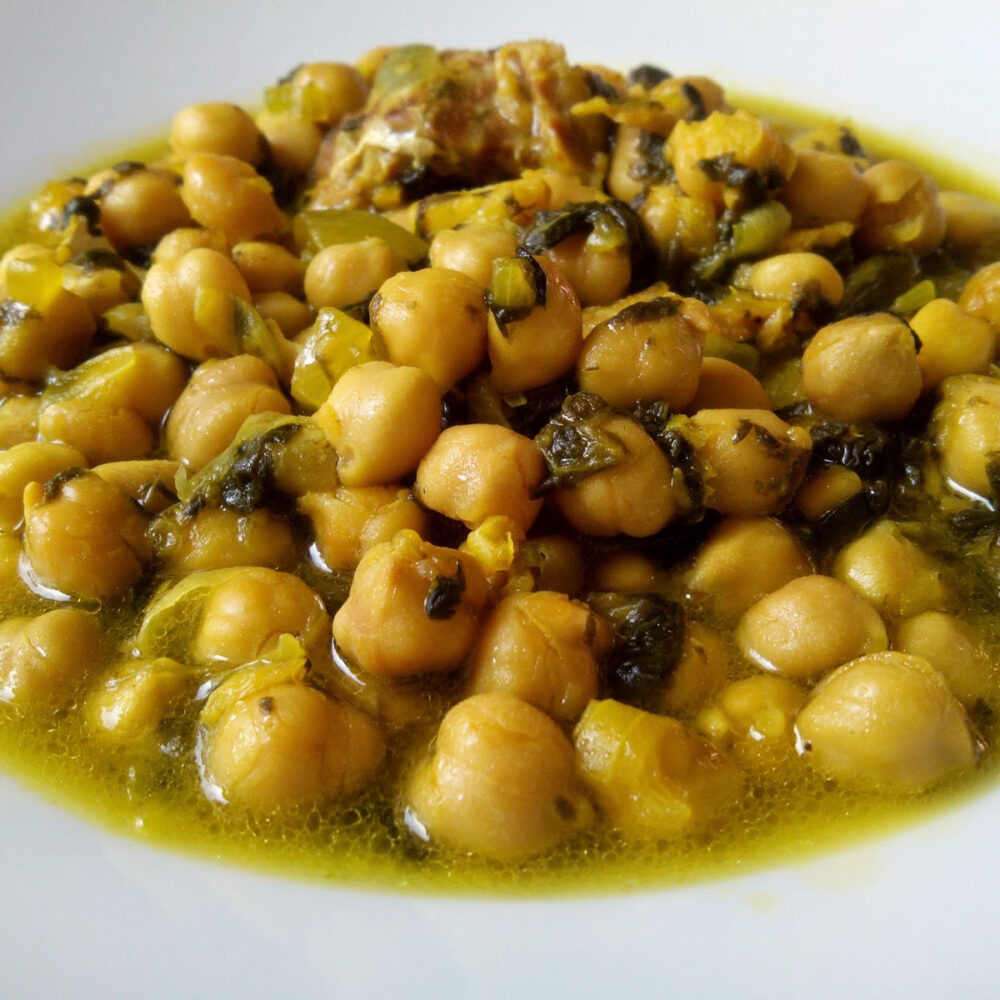 UN PLATO TRADICIONAL: POTAJE DE VIGILIA O DE CUARESMA
El potaje varía según la región, se pueden cambiar ingredientes como las espinacas por acelgas, o por otras verduras de hojas, se pueden utilizar hierbas u otras salazones
Un plato tradicional: Potaje de Vigilia o Cuaresma
Este plato de cuchara tan popular en estas fechas, se sirve como un primer y único plato, ya que es muy rico en nutrientes además de exquisito.
Valores nutricionales del garbanzo: Fibra, potasio, vitamina C, vitamina B-6
Ingredients
Para 6 personas
500-600 gramos de garbanzos – o en conserva lavados y escurridos
400 gramos de bacalao en salazón a desalar – o comprado desalado y desmigado
400 gramos de espinacas – o espinacas descongeladas y escurridas
3 huevos duros
1 cebolla
2 dientes de ajo
1 hoja de laurel
1 cucharada de pimentón de la vera
Sal (ajuste a su gusto). Cuidado con el bacalao
700 ml de agua o caldo de verdura
110 ml de Aceite de Oliva Virgen Extra
Para esta receta llena de tradición, te recomendamos un AOVE de la Mancha, multivariedad Cornicabra-Picual con un nombre de libro MOLINOS DE JABALON.
Preparation mode
Desalar el bacalao si es en salazón 48 horas antes.
Put the dried chickpeas in cold water to soak the night before.
Calentar el aceite de oliva virgen extra en una olla grande y hacer un sofrito con la cebolla picada, ajos picados y pimentón de la vera.
Añadir al sofrito las espinacas (frescas o congeladas) y cubrir de agua o caldo de verdura. Dejar cocinar unos minutos.
Añadir los garbanzos, las migas de bacalao y cubrir de agua o caldo de verdura:

Garbanzos secos, remojados y escurridos: cocinar hasta que los ingredientes estén todos a su punto.
Garbanzos lavados y escurridos: cocer 10 minutos.
Compruebe el punto de sal, si lo desea más liquido, añade un poco de agua caliente o caldo de verdura.
Antes de servir caliente: Pelar los huevos duros, que según tradición, gusto, o habilidades, se pueden presentar picados, en rodajas o en cuartos.
Una receta sin gluten, ideal para los celíacos, un potaje que se adapta a tu cocina;)
Keep informing you at Olive olive