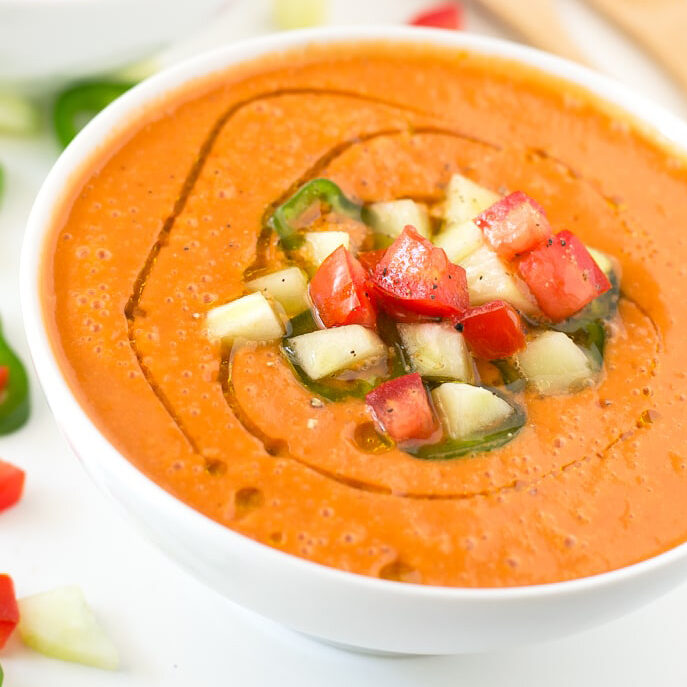 A TRADITIONAL DISH, ANDALUSIAN GAZPACHO
Andalusian gazpacho is one of the foods where the variety of EVOO used can change the flavor to more or less sweet, bitter, spicy tones or even aromas reminiscent of fruit.
Andalusian gazpacho
One of the richest and most nutritious recipes of Spanish cuisine and that provides us with a large amount of vitamins, minerals and antioxidants.
1 kg of ripe red tomatoes
2 green peppers
1/2 onion
1/4 cucumber
1/4 clove of garlic
A crust of stale bread
Dressing: Extra virgin olive oil, wine vinegar and salt
For a sweet gazpacho, Oliva Oliva recommends the Alma Oliva Arbequina oil.
For a more powerful gazpacho, the Gold Bailen Picual It will taste like glory to you.
In a blender we cut and put the tomato, the peppers, the onion, the cucumber, the garlic and the hard bread (put in water 5 minutes before).
Season with a good pinch of salt, a little vinegar and a good splash of extra virgin olive oil (about 1/8 litre).
We beat for 5 minutes and strain the result before putting it in the fridge.
It is served with chopped tomato, pepper and onion and with an dash of extra virgin olive oil.
Keep informing you at Olive olive