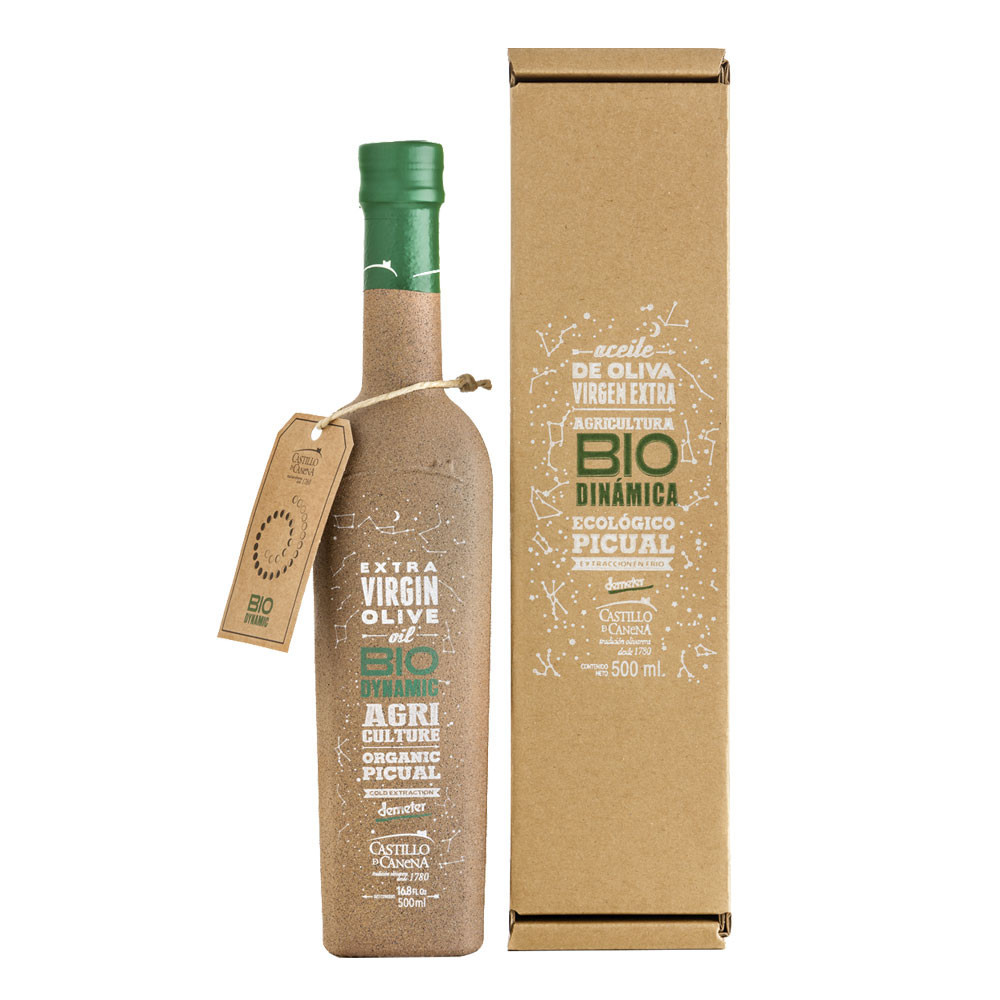 Castillo de Canena launches its first "Biodynamic" extra virgin olive oil, certified by the International Association for Biodynamic Agriculture with the Demeter seal
Biodynamic olive oil
The "Biodynamic" model means going back to the roots of rural activity, to archaeo-agriculture, enriching the concept of organic farming
It is a fresh, lively and expressive extra virgin picual oil, which stands out for its vegetable notes of olive leaf, lettuce and artichoke.
Limited production of 20,000 units.
It comes in a 500 ml bottle, in earth color and silk-screened in white and green with the constellation of stars and moon, representing the cosmic forces and those of the earth itself.
Castillo de Canena launches its first extra virgin olive oil "Biodynamic", certified by the International Association of Biodynamic Agriculture with the DEMETER seal.
"Biodynamicity supposes not only the total exclusion of chemically synthesized fertilizers or pesticides on our farm, but also a total transformation of the environment in which we produce it. We return to the very roots of rural activity. This is what we call archaeo-agriculture", explained Francisco Vañó, general director of Castillo de Canena.
This new oil belongs to its exclusive "21st Century Oils" collection and is made through complete integration and harmony with the ecosystem, with the natural habitat and with the cosmos, enriching the concept of organic farming. A limited product that has just won a Gold medal in the latest edition of the international EcoTrama competition, which rewards the best organic and biodynamic extra-virgin olive oils from around the world.
In his tasting the vegetal notes to herbs and vegetables predominate in this fresh, lively and expressive oil. Olive leaf, lettuce and artichoke appear in the foreground. After, fresh fruit, tomato and a sweet touch of green banana and ripe apple. The bitter and spicy are well integrated; and some astringency reminds us of artichoke, thistle or persimmon. Persistent in the mouth.
"The concept of Biodynamic implies achieving the perfect harmonization between the different forces that govern Nature (seasons, atmospheric phenomena, lunar cycles, etc.), the habitat and the work of the field, which should not alter the natural environment that develops around of an agricultural holding".
In this sense, as support for the concept of cultivation Biodynamic, Castillo de Canena It has also created a forest with native tree species, such as oaks, holm oaks, ash trees, black poplars and junipers around the olive grove to enrich the concept of Mediterranean forest in which the "humanised forest" is combined with the "natural forest".
In addition, the company has introduced sheep that, together with the olive grove, help to fix nutrients naturally, reduce moisture loss and erosion, increase organic matter in the soil and act as a primary fungicide and insecticide -providing a natural habitat for predatory insects of olive grove pests (butterflies, earthworms, beetles, ladybugs and birds).
"A biodynamic farm must be self-sufficient. It is essential that all the by-products and residues of agricultural activity are re-incorporated into the soil, becoming in turn generators of life", Francisco Vañó has specified.